Gratitude bestows reverence, allowing us to encounter everyday epiphanies, those transcendent moments of awe that change forever how we experience life and the world.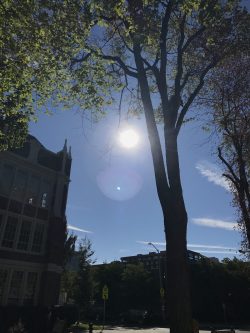 Awe is a positive emotion I will admit I don't stumble upon most days.  Sure, I take lots of photos of hummingbirds, flowers and pink sunset skies yet I have grown accustom to their beauty.  I experience a fleeting moment of excitement and appreciation, snap a photo and I go on about my day.  Just noticing how jaded I have become to the beauty that surrounds me has given me more than a moment's pause.  Clearly, I need a gratitude tune up.
My tune up was 'up leveled' Monday, August 21, 2017.  On that day, I and untold millions, invested the better part of an hour and a half observing – through protective eye wear – the first total eclipse visible in the U.S. in 38 years.  I was in Seattle, WA and where the obstruction was only 92% but the surprise, shock and awe could not have been more complete.
What was I surprised about?  I was surprised how a silly pair of paper glasses allowed me to see a feat of nature that caused me to feel excited.  I was equally surprised when a women stopped by with a homemade cereal box for viewing that worked almost as well.
What was I shocked about?  I was shocked how sharing those same silly glasses allowed me to witness others go from nonchalant participants to surprised, engaging strangers, clearly moved in ways they did not expect.  For a moment in time, there was no division, there was no descent, there was only strangers sharing an experience that awed them.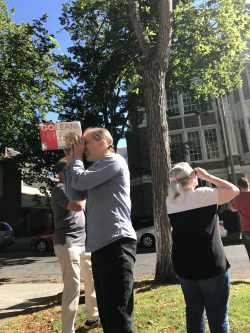 What was I in awe about?  The definition of awe says it all:  wonder and amazement.  As people gathered to share glasses, realize to our amazement the tiny sliver of sun peeping through as a shadow on the ground around us, and share the joy of our mutual surprise reaction to it all, I felt awe in a way I had never noticed before.
I have a few ideas as to why the eclipse experience allowed me to feel awe in such a noticeable way:
Experience. My attention was completely devoted to doing one thing, looking at the eclipse.  I had set time aside. I had nothing else that I allowed to consume my attention, and I just allowed the experience to unfold.  I never planned to feel awe!
Hold and Record. When I noticed the surprised feelings I took note.  First mentally – that was me observing my surprise at my reaction – but then thoughtfully recording my experience in the journal I had with me.
Repeat.  Since Monday, I have shared my experience – with as many people as I could.
My greater objectives now are two-fold.  One, I want to experience an eclipse at a 100% Umbra location.  The 92% coverage made no noticeable difference in the level of daylight.  This fact caused me to metaphorically opine that 'it only takes a little bit of light to see clearly.' Second, the same process that causes us to hold on to negative events – having an experience, holding on to it, recording it and repeating it to everyone who will listen – is the exact process we should use to create positive emotions in our daily lives.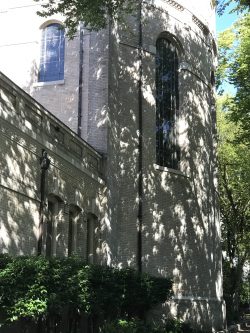 Many times I have mentioned renowned researcher, Barbara Fredrickson's Broaden-and-Build theory, how awe is one of the 10 positive emotions that allows us to experience the more inclusive positive emotion of love, and how love as  "creating momentary perceptions of social connection and self-expansion."  On Monday, August 21, 2017 her research came to life for me.
Enjoy the photos.  But if all of the above is just a bit to mushy for your liking remember the words of comedian Les Dawson:
In awe, I watched the waxing moon ride across the zenith of the heavens like an ambered chariot towards the ebony void of infinite space wherein the tethered belts of Jupiter and Mars hang, forever festooned in their orbital majesty. And as I looked at all this I thought… I must put a roof on this toilet. Les Dawson
---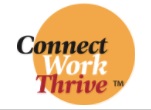 I will be sharing my expertise on YOUR LANGUAGE OF SUCCESS at the fabulous Connect•Work•Thrive Return to Work You Love Conference on October 4th  at the Community Foundation of Silicon Valley (1300 S. El Camino Real, Ste. 100, San Mateo, CA  94402).  There will be 12 information-packed workshops, a dynamic keynote speaker, one-on-one coaching sessions, professional head shots, lunch, and much more. Join me! For information and to register, visit: http://connectworkthrive.com