By Andrea Goeglein
Do you think no one understands you?  Have you ever thought:
"I suppose the one problem I haven't figured out a good solution for—the one that keeps coming up again and again—is how I come across to other people.  I get the feeling that sometimes people think I'm being critical, or aloof, or disengaged, and that's not at all my intention.  But I don't know how to fix it, because I don't understand what they are seeing." (Introduction, Loc 91 Kindle edition)
If so, buy and read Heidi Grant Halvorson's newest book:  No One Understands You and What To Do About It.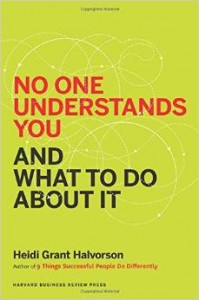 I would write more but I have made a personal commitment to finish this book as quickly as possible.  Don't Die Principle of Responsibility #1:  Change your awareness and your perspective will change.  #Relearning  Again!