By Andrea Goeglein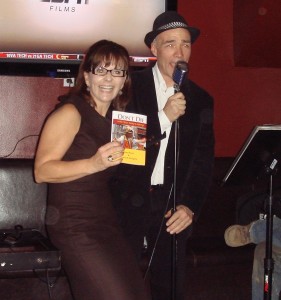 September 6 is Gary Russo's birthday.  That is the cool thing about the day you are born, whether you are still alive on that date each year, those who know and love you get to celebrate the fact that you were born.   Forum Newsgroup journalist, Michael V. Cusenza, captured Gary in the way I knew him, "Gary Russo got the chance to sing his song before he died – and by all counts, he embraced every opportunity."
Alive or deceased, Gary's story, Don't Die with Your Song Unsung, is as accurate today as it was in 2011.  It chronicles a moment in time when Gary transformed a dark period of his life into a moment of courage.  That moment of courage opened the door to serval years of opportunities to sing many songs.  Those doors opened on or about July 28, 2011 when a very insecure, but determined Gary, set up the first of his lunchtime concerts.
What I know is that as the evening of July 28, 2015 came to an end, Gary made a decision to close the door to any future opportunities in this lifetime.  Most likely it was in the early morning of July 29, 2015 – four years after the first Youtube video of Gary singing was posted – Gary left this earth of his own hand.  On the July 29, 2011 video Gary's last words are:  "That is enough of the sad stuff."   Yes, Gary it is.
I have experienced many emotions since I first learned of his disappearance and eventual death.  Gary's life and my work are so closely related – and we are actually related – so I initially decided to "decide not to decide".  It was a time to grieve.  Slowly from that grief, answers came.
The first answer came in the way of a quote that I cannot fine the original attribution for, but one I have found myself using many times during this year:
"A man (or woman) dies twice.  Once when he takes his last breath.  The second time with the last person who's heart he touch dies and his name is no longer spoken."
I decided to make it part of my work to keep Gary's name, and his story, alive.  From the perspective of my academic training in positive psychology the ability to be grateful for the spectacular things that occur in your life, especially during the most challenging of times, helps build resilience.  From that perspective, the months I spent talking with Gary, reliving his adventure, and writing the book, will always be a point of unlimited gratitude.  The concept of living 'moment-by-moment' allows me to know that the greatness of one moment is not erased in the sorrow of another moment.
The second answer is that I will be spearheading a campaign to attract at least 25 new reviews for Don't Die with Your Song Unsung.  You see, I was at the BK Publishers marketing meeting the last time I spoke with Gary.  I rarely leave a meeting to take a call, but on July 15 I hastily exited the meeting room because I saw Gary was calling.  I believed he was calling about a documentary interview he was going to do about Sinatra.  Instead he was calling to tell me Lily Salm from the Unsung book was given a terminal diagnosis.  He wanted me to call her.  I could tell he was not his usual chipper self, but suspected that was just because of the news he was delivering.  I then told him I had just learned that Amazon's algorithm begins to pay attention to your book when you have 50 reviews.  I told him I would work at getting more review for our book.  That is a commitment I will keep.  If you read the book and have not reviewed it yet on Amazon, please stop reading this and do that now.  My request is simple:  5 Stars, two sentences, done!
The last answer, today, September 6, 2015, I am going to visit with Lily Salm in New York.  I have a bottle of Prosecco for us to share.  You see, when I finally worked up the courage to call Lily on August 7 to let her know Gary was missing, she paused.  She then said, "Andrea, he is already gone.  He is practicing to play at my Prosecco party in Heaven."
And that brings me to my last answer.  After reading Love is Stronger than Death, I made a habit when someone I love passes away, I think of something that reminds me of them.  Then every time I see that item, I know that person is with me in spirit.  Because of my conversations with Lily over the weeks, and before I officially knew Gary had passed, I made Prosecco my "Gary" item.  Prosecco is not something that had been visible in my life up until that point, with the exception of one person I had not seen in two years.   Yet, the same day I made that mental decision I went out to dinner and yes, you guessed it, someone ordered Prosecco.  Weeks passed, we learned Gary was indeed dead, and a service was held.  Our immediate family gathered for dinner following the service.  When one of my cousins ordered Prosecco, I laughed, and knew I had picked the right reminder.
#RIPSecondAveSinatra  With gratitude and deep love, Andrea