b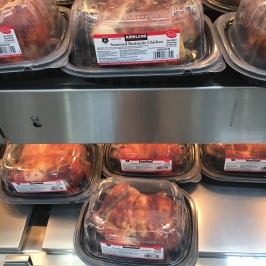 y Andrea Goeglein
"Everything you own at the time of your passing will belong to someone else.  Everything you are at the time of your passing, belongs to you."
Bob Proctor
Have you ever been going about your day and something crosses your path that makes you think of a person a proverbal million miles away?  That happens to me often.  Sometimes I stop and let the person know.  Most of the time I just smile to myself and continue about my day.
Dr. Success Challenge:  If something you are doing in your day triggers a pleasant reminder of someone in your life, stop, enjoy the remembrance AND let the person know.
This challenge comes from an experience at the roast chicken station at Costco, proving any place is the right place to feel love.
As my readers know, one of my favorite Don't Die friends is Lily Salm.  Lily loves  roast chickens.  Just how good those chickens are was one of the many discussion topics during our recent visit. Here is an example of how technology actually making my life better.  I have an app on my phone named INK.  INK allows me to make and send photo cards and postcards whenever the spirit moves me.  I was not thinking of Lily as I raced to beat the long lines at Costco, but when I saw the roast chicken counter, I stopped, took a photo, and a day later sent her a card.
Here is what I noticed about that situation.  Taking the action and sending Lily the card actually made me feel good.  I enjoyed creating the card and its message letting her know I had thought of her during my day.
I experienced the truth in the statement, "When you do good, you feel good."
You can make excuses or you can let those you love know in present time.
Be brave and just do it!