Gary Russo, a construction-worker-turned-singing-sensation, releases Don't Die with Your Song Unsung, a small book that translates his remarkable story into inspiration for every worker who feels stuck in a job and unable to pursue personal dreams.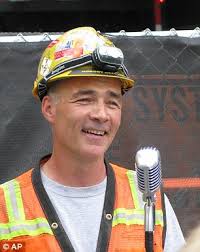 NEW YORK, New York – November 7, 2011: Blue-collar worker Gary Russo literally rose above the noise and heat of his subway-construction job in New York to pursue his dream of singing in public. In Don't Die with Your Song Unsung (ServingSuccess Publishing, November 2011, $15.95), a new book co-authored with Dr. Andrea T. Goeglein, he inspires others to pursue their dreams.
Recession-weary workers nationwide could use this inspiration. A recent Gallup poll showed that roughly one-third of U.S. workers are dissatisfied by the amount of on-the-job stress and 26% cite dissatisfaction stemming from a lack of promotion opportunities.
[i]
Worn down by a perceived lack of opportunity in a stressful workplace, workers have most likely shelved their dreams.
Russo's story and Goeglein's personal development commentary in Don't Die with Your Song Unsung tell readers that they don't have to settle for where they are. "I worked for a great company, but I was just going through the motions," reflects Russo. "My life changed completely in 31 days. Now my goal is to help others understand that they, too, can pursue their dreams while also holding down a job and paying the bills. My message is: If I could do it, you can, too."
Russo transformed what could have been a flash of fame into a lifetime commitment to help others smile, dream, and know the power of love.
He stepped onto the main stage of his life through the magic of an August 2, 2011 YouTube video. Known as the "2nd Avenue Subway Sinatra," Gary has shared his song and live-your-dreams message through media outlets such as
Good Morning America
,
World News Tonight
with Brian Williams, and
Inside Edition,
and at premier venues including New York's famous Blue Note Jazz Club, Rockefeller Center, and the ING New York City Marathon start line, where a television commentator hailed him as "a New York legend."
Andrea T. Goeglein, PhD, aka Dr. Success®, is founder, curator, and author of the Don't Die, Small Book, Big Impact personal development series. As an expert in Positive Psychology, she translates true stories into actionable inspiration. Andrea frequently appears on KAZ-TV's AM Arizona; she has also appeared on the Rachael Ray show and on major radio networks across the nation.
Don't Die books make affordable, high-impact gifts that convey support and encouragement during these tough times. They are available for purchase at Amazon and at http://www.ServingSuccess.com/
---