by Andrea Goeglein
I have been learning how to live better and more completely each day from those in my life who are knowingly in the process of dying.   They are proving to me that living the with the Don't Die™ spirit allows you to truly live each day with joy and appreciation for the love you have created in your life.
For those of you who have read Don't Die with Your Song Unsung, you meet Lily – Gary Russo's de facto 85 year old music director.  This photo was taken in June when I visited with Lily and she was sharing why you should never marry.  She told me it made no sense to limit yourself to just one man when there are so many men in the world!  She then preceded to tell us about how much fun she has had in her life and who she had an eye on now (at that moment it was the 40 something waiter).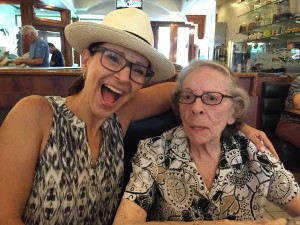 Three weeks later Lily was told she had terminal cancer.  My calls with her have been nothing short of inspirational.  She implored me from the first call, do not be sad.  I have followed her lead the whole way.  What follows is a transcript of a voice mail she left after our call on Saturday, August 1, 2015.  I needed her address.  Read the Dr. Success Challenge to understand why.
"Hi there it is me, Lily in New York
First let me give you my last name, Salm.
S for Sugar
A for Apple
L for Love
M for Mary
[address]
Hon, I can't begin to explain to you what a wonderful experience I am having dying.  I never thought I would be perfectly at peace and having a most wonderful time.  Hearing from all my friends, seeing my friends, and not only that, getting signs that people are waiting for me.  Friends that have been dead, they are waiting for me.  We are going to have a big Prosecco party and I am just so content.  I have a new pill from the doctor.  I feel good, I get up in the morning, take my shower, have breakfast, , only thing I don't do is I don't go out anymore.  But that is okay I am having a wonderful time at home.
And I hope, hope, hope that I get to see in September – and I think I will – there are so many people coming to New York that I would like to see again and just say hello to them.  I don't say goodbye because – well, I will say goodbye but I am going at peace and in a wonderful mood.  I love you so much,  Hope to see you in September.  Big kiss"
Don't think I need to go into much analysis about this message and how it speaks to me about how to live each day.  Just seeing how she associates the letters of her name brings a smile to my face.  Now I hope you will join me in bringing a smile to Lily's face.
Dr. Success Challenge:  If you are willing to send Lily a card of love, please send me an email at DrSuccess@ServingSuccess.com and I will send you her address.  Just put Lily Salm in the subject.
I hope, hope, hope you write and ask for the address.  Thank you.