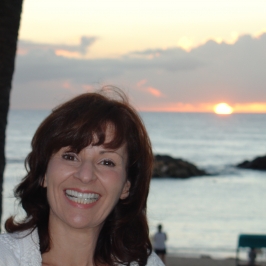 Screw Being Happy!
Of all the things you expected to hear from me at the beginning of a work week, I bet 'screw being happy' was not on your list.  Now that I have your attention, I will explain.
My private client base is well-educated, affluent and not only achievement orientated, but have already achieved a lot by any measure before they come to work with me.  The majority of my clients have children.  Inevitably our work together will include a conversation or two (or ten) about their children.  Inevitably they say the words I dread the most:  I just want my children to be happy.
Inevitably I respond: Excuse me, since when did an overachiever like you shoot for such a low target!
The short takeaway (for your children or the employees you work with and for) is this:
Being happy is nice, and since it is a choice, fairly simple to achieve.  Being 'happy' is only as difficult as you choose to make achieving a state of positive emotions (positivity).  I am not saying that is not a difficult choice to make, or a difficult choice to sustain even after you make it.  It is a moment-by-moment decision.  The decision is simple.  The act of enlivening positive emotions can be difficult. However…
The real goal for yourself, your employees and most of all your children, is to co-create highly engaged individuals who know they are not alone in their efforts to create their lives, and their work, during their natural lives.  What are they engaged in?  Well to start, being curious.  Noticing nature.  Finding subjects they enjoy.  Being loved and respected – not for their strengths and talents – but just because they have strengths and talents yet to be discovered.
For employees, engagement would be the experience of using their natural strengths and talents to achieve the goals and purpose of the organization they CHOSE to work for and with.  For children, it starts with connection to those around them and observing things in their environment that they enjoy.  I am not sure I achieved that goal, either with the hundreds of employees I have known over the years of my business ownership, or with my child when she was young.
What I do know is I made the same mistake many of those reading this have made.  I thought 'happy' employees were the key to my success.  I thought I was a successful parent if my child was not crying.  And I now know I had some learning and relearning to do.  I hope you join me in my effort to #ScrewBeingHappy and #WhatINeedtoRelearn.
PS:  For those of you who enjoy the science of positive psychology, from its earliest founding, the pleasant life was not the indicator of the most satisfying life.  The most satisfying life came when your life was filled with meaning and with people who matter.  The rest is window dressing!
PSS: To stand in integrity about 'window dressing', the photo on this blog is 10 years old!