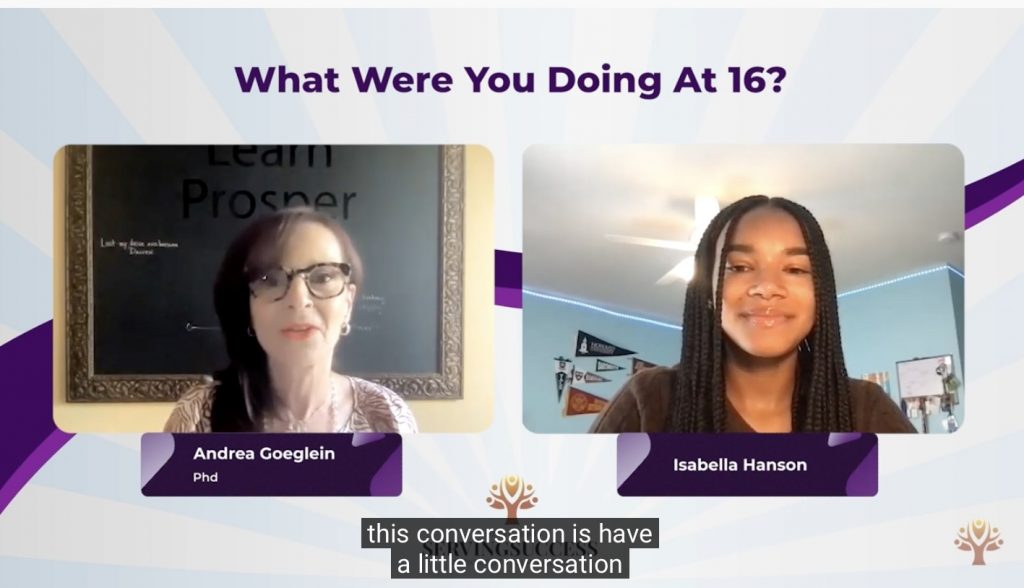 What were you doing at 16?
Think back to when you were 14, 15, and 16 years old.
Do you remember what was happening in the world?
Okay, okay, so maybe I cannot actually remember what I was doing or what was happening in the world either.   What I know was what I was not doing.  I was not responding to big social issues with the idea of unifying my peers.  Yet, that was what Isabella Hansen did when she was 14.   Bella created the I Matter Poetry and Art competition under the guidance of the National Youth Foundation. Three years in, the competition now attracts K-12 students from 42 states and 30 countries.
I had the pleasure of meeting Bella in the lobby of a Daduo Hotel in Paris.  In reality, I met her super-supportive mom, Sophia, while Bella participated in a Zoom advisory board meeting for Lady Gaga's Born This Way Foundation.  Do you get the picture yet of just how devoted to being a part of society's solutions Bella Hansen is?  Her focus and devotion would be admirable if she were 26, but at 16, it is darned impressive (as you will see when you watch our conversation).
Don't get the wrong idea.  Bella clearly knows how to be a normal teenager.  She knows how to have as much fun as any 16-year-old.  Hip hop festivals, day trips to explore nearby countries, and planning college tours, are all part of her life.  Upon meeting Bella, you would not immediately know that she transformed the death of George Floyd  into a literary expression to explain why Black lives matter.  She is poised yet not braggadocious.  Bella is clear-spoken about her purpose and not overbearing.  She knows how to invite you into her effort to bring greater understanding through the arts with grace and vision.
I must say, I did internally laugh at one point, thinking back on my teen years.  I remember being completely put out that I had to take literature and art classes.  I don't remember being inspired to change anything in the world.  I know I was great at complaining about most things.  Bella, in contrast, connected how literature helps you understand others and imagined how it might help others understand why Black lives matter and always have.
I have one closing observation.  After my conversation with Bella, and as I was writing this blog, I realized something.  Bella was born in 2006.  Imagine being a young African American girl in the United States.  Imagine the first time you learned about the president and the first family, and they looked just like your family.  Imagine that for the first ten years of your life, the only image of the White House looked just like your family.  I took that for granted my entire life.
Bella, however, represents the first generation of young Black people for whom that is true.  Maybe that is why she intuitively knows that all human problems have a human solution.  Bella can say I Matter because she strives daily to ensure equity is the norm for all, not the exception for a few.
Note:  The winning entry will be posted on the National Youth Foundation social media pages by September 30, 2022 @NYFUSA on Twitter and Facebook – @NationalYouthFoundation on Instagram