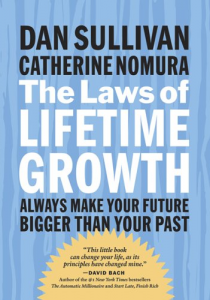 Do you ever hit those snags in life where you feel like you've stopped growing? Does life become so routine, so much hard work, that all you believe you can do is tread water? When it seems as though there is little room left to dream at the end of a long day of working, raising your family, paying bills, etc. Ironically, even the good things in life can stop us from growing – fame, fortune, recognition. Literally anything can stop us from seeking a bigger experience with life, if we let it.
Dan Sullivan and Catherine Nomura, the authors of, The Laws of Lifetime Growth have built this book on their own "sticky" life situations. Businessman Dan Sullivan survived not one, but two, bankruptcies. With the indefatigable spirit of an entrepreneur, Dan used his experience to create a million-dollar coaching firm. Catherine Nomura then helped Dan to recreate himself again and translated Dan's life and his inspiring philosophy to the written page. This book is our doorway into that philosophy and our invitation to create our the most rewarding life possible.
The Laws of Lifetime Growth is a living example of Law #2, "Always make your learning greater than your experience." We all face many unexpected turns, good and bad. But as the authors point out, "You can have a great deal of experience and be no smarter for all of the things you've done, seen, and heard. Experience alone is no guarantee of lifetime growth. But if you regularly transform your experiences into new lessons, you will make each day of your life a source of growth."

No matter what our circumstance, health, financial situation, etc., we can choose to make each day pivotal in our development. In this way our worst moments can often become our most valuable trajectories to our best life – and biggest successes.
The Laws build on one another in this book. As the benchmark, Law #1 is both the roots and wings for the other nine. Always make your future bigger than your past. By putting that idea into action and knowing that life always has more in store for us, we are naturally moved into hope and gratitude. For positive psychology it is no "secret" that gratitude is the doorway to all universal gifts.
Like most books from Berrett-Koehler, The Laws of Lifetime Growth is a quick study. It reminds us in every-day language, that in our abundant world we must be proactively grateful. We must practice gratitude and learning.
This is not simply another reminder to pay it forward. It holds amazing surprises for the reader. Law #6 says: "Always make your enjoyment greater than your effort." Simply put, life should be FUN! It's vital to remember that joy is a service to others. A person grounded in JOY is like a beacon to all and a magnet for learning.

"Finding ways to get more and more enjoyment from your activities is one way to ensure continued growth. Creativity in all fields of activity is intimately linked to playfulness – the constant desire to do new things just for the fun of it. Approach everything you do with this sense of play, and you will ensure that, even though you still get as good or better results, your enjoyment is always greater than your effort."
Although we often wish we had an unlimited supply of years, embracing our limited life is, in reality, infinitely powerful. It reminds us of the intrinsic value in every moment and every experience.
We can choose to live our lives in motion: moving forward, thinking positive, helping others and maintaining gratitude. By combining those principals with our own definition of personal happiness, we can enjoy our successful efforts, no matter what results may come down the path.
To your success! Dr. Success, Andrea Goeglein, Ph.D.
Expert on Positive Psychology and Executive Mentor
www.ServingSuccess.com
Click here to purchase your copy of, "The Laws of Lifetime Growth."