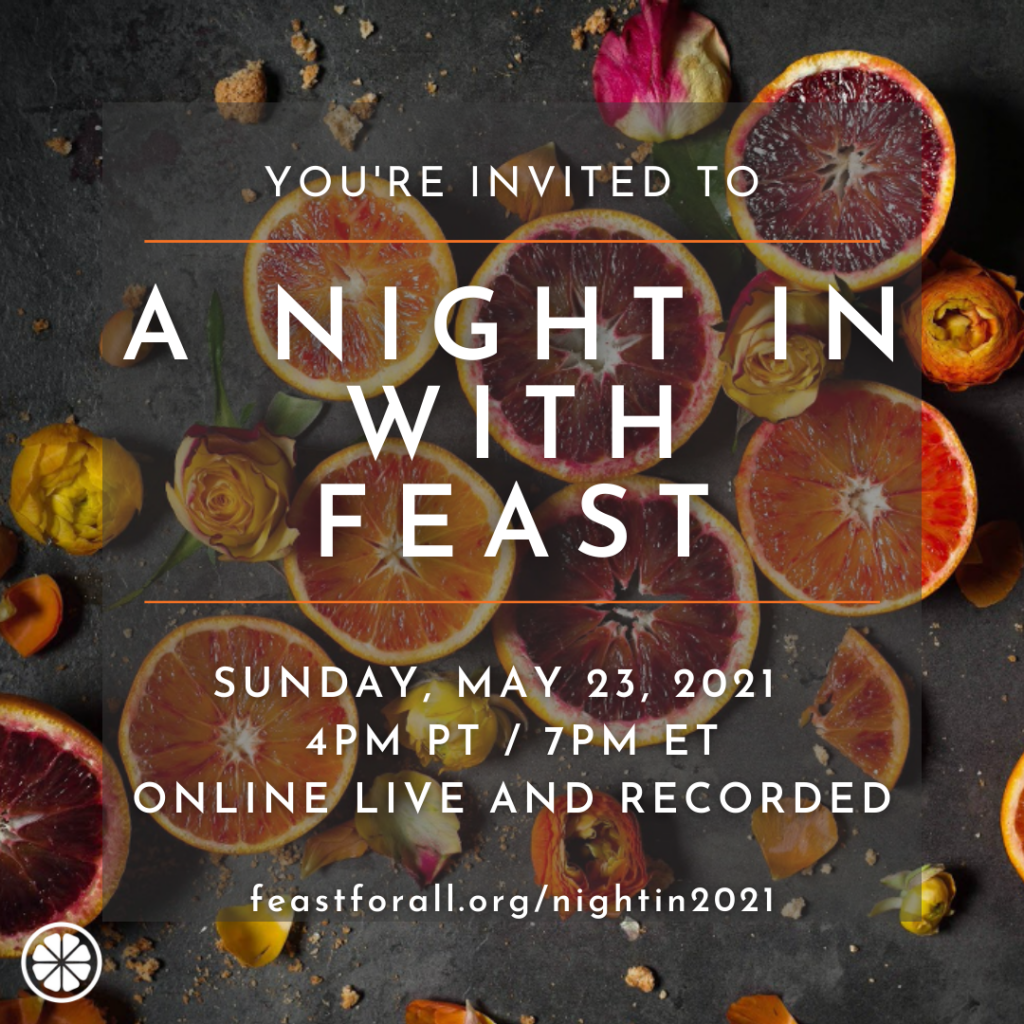 FEAST TO HOLD 2ND ANNUAL "A NIGHT IN WITH FEAST" VIRTUAL FUNDRAISING EVENT ON MAY 23RD
 LOS ANGELES, CA (May 5, 2021) — FEAST (Food Education Access Support Together) will virtually host its second annual "A Night In With FEAST" benefit and dinner-at-home signature event on May 23, 2021. Featuring an interactive cooking demonstration and Q&A session with famed chef, Tom Colicchio, and an appearance from Chef Behzad Jamshidi, the event also includes a silent auction, a performance from award-winning poet, In-Q, and much more. The event is a night of healthy food and human connection.
Specially curated meal and ingredient kits by Chef Tom Colicchio are available for ticket holders to participate in a unique, interactive cooking experience in the comfort of their homes during the virtual event. A seasonal spring vegetable pasta and cocktail options are created and delivered by Craft at Home and Simple Vodka. Nationwide shipping is available, but orders must be placed by the end of day on May 11, 2021 to ensure timely delivery.
"Sharing good food and creating community are central to FEAST's mission. A Night In With FEAST was established to celebrate amazing food, cocktails, togetherness, and to support FEAST's mission of giving every family equal access to the ingredients that create health and wellness," said Chef Tom Colicchio.
"Although we were not able to come together in person this year, our team at FEAST is so grateful for all the donors and sponsors who have continued to support our organization, FEAST families, and signature fundraising events." said FEAST Executive Director, Dana Rizer.
FEAST was launched in 2013 by Sam Polk and Dr. Kirsten Thompson with the intention of addressing the health disparities affecting families across the U.S., largely stemming from a broken food system. The creation of a holistic program that combined practical skills like nutrition education and healthy cooking with a support-group structure has successfully changed the lives of thousands of individuals and families in the Los Angeles area and New York Metro.
"The communities FEAST serves have not only struggled with food insecurity throughout the pandemic, they have experienced a mortality rate from Covid-19 that was 9x higher than in more affluent communities," said Rizer. "Our mission is to reverse these health disparities through our proven wellness programs, and to ensure that the ingredients that create health and wellness are available to all."
The second annual "A Night In With FEAST" is generously supported by the Hey, Boss Lady! Podcast, Rebel Health, Sweetfin, Nutribullet, and Simple Vodka. Proceeds from this event will help provide underserved communities with the ingredients that create lasting health and wellness through FEAST's 16-Week Wellness programs.
For more information on ticketing for "A Night In With FEAST" or to donate, please visit https://feastforall.org/nightin2021/.
                                                              ###
 ABOUT FEAST:
FEAST (Food Education Access Support Together) is a 501(c)(3) nonprofit dedicated to promoting wellness and enriching lives through the power of healthy food and human connection. The organization serves families in Los Angeles and NYC through a 16-week holistic wellness program that provides nutrition education, healthy cooking and shopping skills, access to nutritious foods, and emotional support in a group setting. For more information on FEAST, please visit www.feastforall.org.