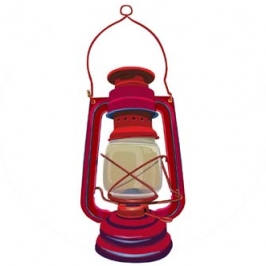 Success takes persistence and perseverance.  Have you ever persisted through all obstacles and come in dead last for your efforts?  Well, I have!  I was pleased to learn on my recent trip to Alaska that in the famous Iditarod dog race there are two awards granted.  Of course the winner is well recognized, but so is the person who comes in dead last.  The last person gets the Red Lantern Award.  Makes sense to me since the race covers 975 miles and takes anywhere from 8 to 15 days.  Really, the longer you stay out, the harder it gets.  It has to be easier to win, than come in last.  The last person in, I think, deserves more than an award!
The Red Lantern Award actually started as a joke in the early to mid-1950s.  Over time, the joke evolved into a symbol of perseverance.  To me, that reminds me of how I feel about a lot of what I would call the 'jokes of life' which I (and I know you) have persevered though during my lifetime.  You train, you work hard, you persist – and the best you can do is come in dead last!
Dr. Success Challenge:  Think back on some life event you may have previously viewed as a 'failure'.  Look at the event from the perspective of the Red Lantern Award.  Are you willing to give yourself an award for your perseverance?