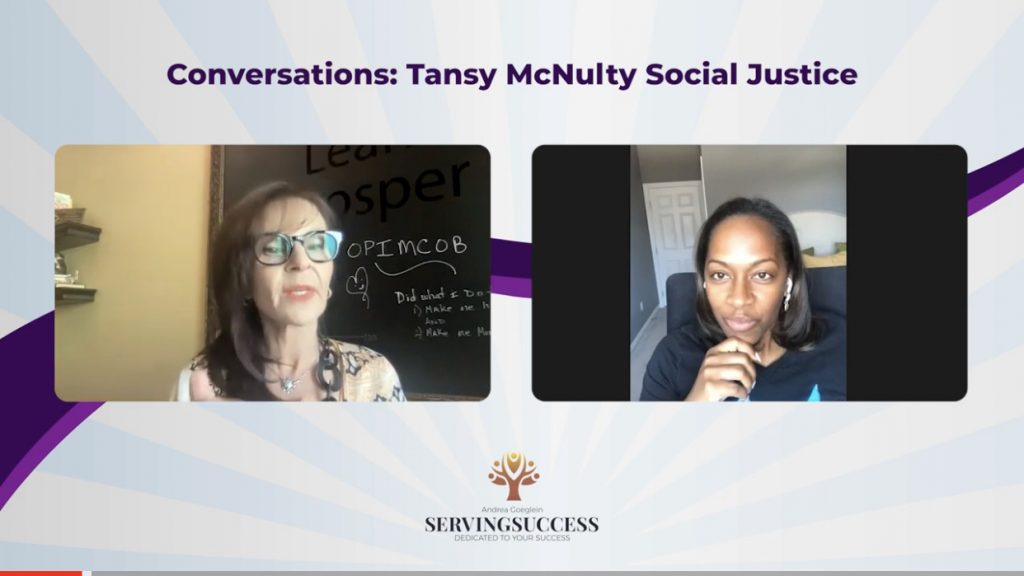 Have you ever wondered how your business talents could impact great social change?
Having a Master's in business, logistics, and supply chain management might not seem like a straight line to founding the social injustice solution organization, 1M4.org, yet that is exactly what Tansy McNulty has achieved.  I had the pleasure of meeting Tansy at a Bunker Labs weekly cohort meeting.  Tansy's thoughtful and creative solution-based initiative to end police brutality is impressive.  Her strategic discipline was nothing compared to her maternal drive to keep her children, and all children, safe. Upon meeting Tansy, I was immediately reminded of the guiding question for the Hey, Boss Lady! podcast: "Now that women have greater influence, what will be different?" For Tansy McNulty, the answer is nothing short of mobilizing a million madly motivated moms to end police brutality by 2038.  1M4 envisions a world in which police brutality does not exist.
Black Girl Magic Meets Strategic Action
If you think the goal to actualize a world in which police brutality does not exist is not achievable, it is because you have not met Tansy.  She firmly believes that by combining strategic action with Black girl magic there is not a goal that cannot be achieved.  Armed with the numbers to prove it can be done and how Tansy is using every skill she learned in her education and corporate experience to mobilize a solution.  Tansy researched deeply for over a year, called together a team of supporters, created a central site for resources, crafting solutions and then the real work began. A visit to 1M4 will give you a feel for what I experienced.
Positive Psychology, Recrafting, and Social Change
The social impact vision of 1M4 is impressive enough, yet as an applied positive psychologist what I am intrigued by is how Tansy has recrafted her skillset to fit a dramatically different venture.  Many of us spend our days wondering if what we do for and at work matters. Few of us daydream about how the reports we are writing, the meetings we are attending, or the number-crunching we are doing could be used to change the world for the better. Tansy followed a path of recrafting her skills that is familiar to me.  She was inspired by a vision to act, then started to apply her skills to make the vision come to life.  I do not know if Tansy has the VIA strength of Justice, but the characteristics of citizenship, social responsibility, loyalty, teamwork, fairness, and leadership sure seem to fit!
Armed Service Personnel, Veterans, and Bunker Labs
Before I close, I want to give a shout-out to an incredible business growth program available to armed service personnel, veterans, and their spouses.  Bunker Labs is a business incubator like the one I ran years ago for local business owners.  The difference? Bunker Labs is free (and trust mine was not!) for individuals who qualify (another difference is you don't get me however what they do is excellent).  A shout out too to part of my young tribe, Lito Villanueva, founder and CTO of Litocorp, for inviting me to his Bunker Labs meeting.  Thank you for the opportunity to learn.