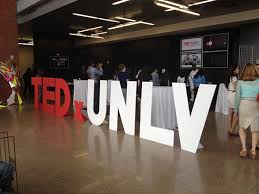 Long before TED conferences branded the now recognizable "ideas worth spreading", a child whose parents were recently freed slaves by the name of Mary McLeod Bethune, took it upon herself to find ways to educate herself and those in her community.
Mary financed her ambitious dream by selling sweet potato pies door-to-door to raise money to purchase books.  It was the late 1890's in South Carolina.  It was a simple idea, funded by using what tools and skills Mary naturally possessed, and from her idea, Bethune-Cookman University was later born.
On April 11, 2014 TEDxUNLV will convene with the ambitious goal of Flipping the Switch to Ignite, Imagine and Illuminate the next generation of ambitious students.  If you think you have an idea worth spreading and want to submit a proposal to potentially be a presenter, please go to this link:  http://form.jotform.us/form/32178378587167?
And of course if you want to become a sponsor of this prestigious event, contact Jeanne Hamrick, Sponsorship Director or Michael Grema, TEDxUNLV Chair at TEDxUNLV@unlv.edu
To keep track of all the great things planned for this April 11, 2014 event, follow us on Facebook:  https://www.facebook.com/TEDxUNLV 
What idea do you have that is worth spreading?