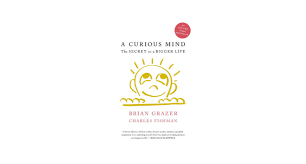 There are 3 curious questions I want to share with you that will possibly enhance your life success:
How would you celebrate your birthday if you intended to use your special day to set the most curious life goal possible?
Who are you curious about?  Who would you like to sit with and ask them everything possible about their lives?
What would you achieve if you were curious every day?
Curiosity is one of the 24 Values in Action — this means that it is a human strength that is malleable and can be developed through focused effort.  Why bother to put in the focused effort?  The Academy Award winning producer, Brain Grazer, is an outstanding example of why you would bother.  In his book, A Curious Mind, he shares just how his curious mind set the stage for a successful life.
Recently I had an opportunity to discuss birthdays, life goals and curiosity with the former producer of America'a Most Wanted Sharon Adashek on a podcast.  My hope is that by watching you will decide to serve your success and become more curious!  Enjoy.